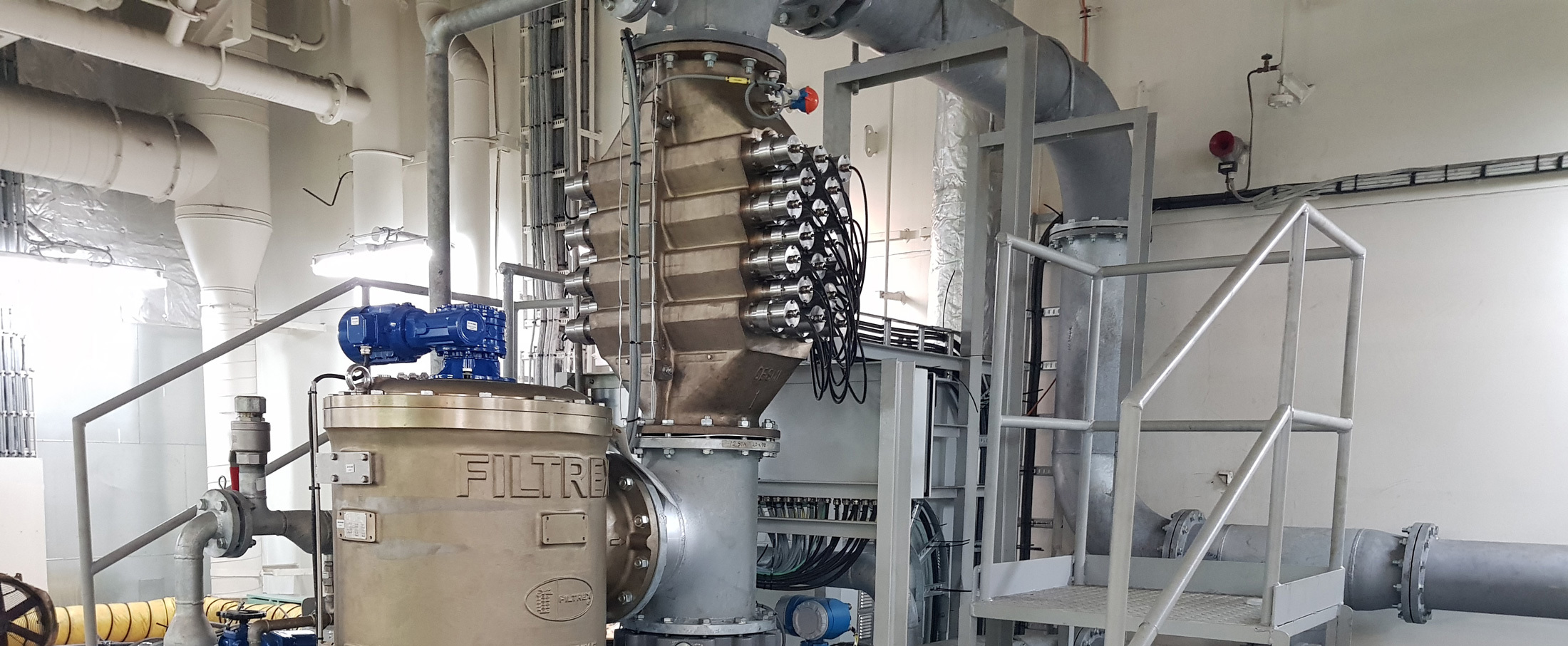 Special Features
CompactClean Ballast Water Management System has a great number of special features
✔ Smooth Port Operations
✔
High Efficiency Keeps your OPEX Down
✔ Integrated and Compliant Solution for Ballast Stripping Operations
✔ Fully Automated with Easy Integration into Ship Automation System
✔ Intelligent Control
✔ Long Lifetime of Components Gives you Reliable Treatment and Low OPEX
SMOOTH PORT OPERATIONS
Automatic adjustment of treatment in order to cope with extremely challenging water, avoiding alarms and interrupted port operations in dirty and challenging water conditions.
CompactClean does not just raise an "out of compliance" warning in very dirty water conditions as some other systems. 
Instead, CompactClean automatically reduces flow through the system to ensure compliant treatment even under extreme conditions. 
This enables the vessel to carry on with its port operations instead of forcing the vessel to interrupt the ballast water discharge and you will save costs relating to delays in harbour.
HIGH EFFICIENCY KEEPS YOUR OPEX DOWN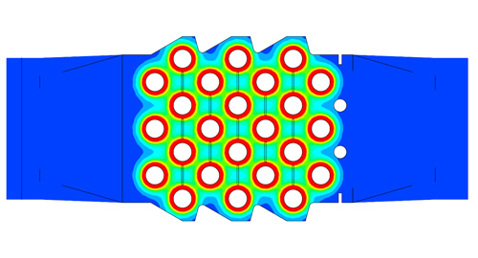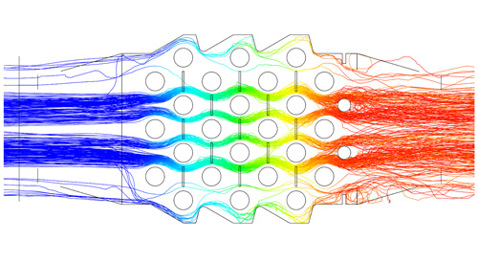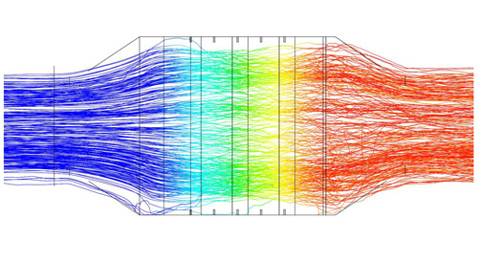 UV unit design with very high treatment efficiency reduces the power consumption.
The special shapes of the CompactClean UV chambers have been developed and optimised on the basis of hundreds of state-of-the-art CFD simulations. This ensures that each kW of generated UV light is utilized to the max. which means that the power consumption is as low as possible, resulting in reduced operational costs!
INTEGRATED AND COMPLIANT SOLUTION FOR BALLAST STRIPPING OPERATIONS
The CompactClean filter back flush pump can be used as stripping pump during stripping of ballast tanks. Use of ejectors for stripping of ballast tanks jeopardizes compliance with the IMO and USCG discharge standards, because untreated drive water is mixed with treated ballast water. 
In addition, the untreated drive water can introduce significant wear and tear of the system components. As the only system in the world, CompactClean solves this, as the system is fitted with a special filter back-flush pump that can be used as dedicated stripping pump during de-ballasting. One system, one pump: two problems solved!
FULLY AUTOMATED WITH EASY INTEGRATION INTO SHIP AUTOMATION SYSTEM
CompactClean is PLC controlled and supports all generally used main types of communication interfaces.
With CompactClean the crew on board the vessel will hardly notice that they are treating the ballast water. The system is fully automatic and can be seamlessly integrated with already existing systems on the vessel. 
When wanting to take ballast water on board, press the "Start Ballast" button on the touch screen, and when discharging the ballast water press the "Start De-ballast" button on the touch screen. That's how simple it should be – that's how simple it is!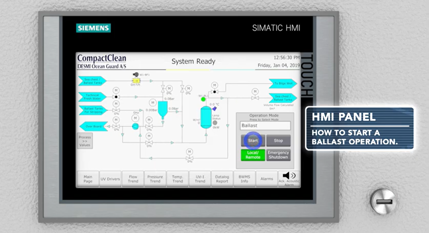 INTELLIGENT CONTROL
The System is Delivered with a Standard Electrical Panel. Additional Remote HMI Screen on e.g. Bridge or in Engine Control Room can be Added. The BWMS is delivered with a main panel that can be placed in any convenient place. The main panel is equipped with an HMI screen, from which the system is controlled and alarms are visualized. All operations can be done from a secondary screen in the deck control office or on the bridge, if option for installing remote control screens is used.
On the HMI screen, the operator can switch between several screen views (main page, active alarms, alarm history, PI-D page and UV drivers) to display all relevant information. During operation, the status of all components and sensors can be monitored, and operational values such as flow, pressure, temperature and UV intensity can be viewed instantaneously; and trend curves can be displayed to see the development over time.
Standard fully automated operating modes for treatment are:
Ballast

De-Ballast

Stripping

Other automated modes which can be selected are:

Water Filling

Recirculation