CompactClean OptIMO
Save costs with the CompactClean OptIMO Ballast Water Management System for vessels trading globally, but where reduced flowrate in US territory can be accepted.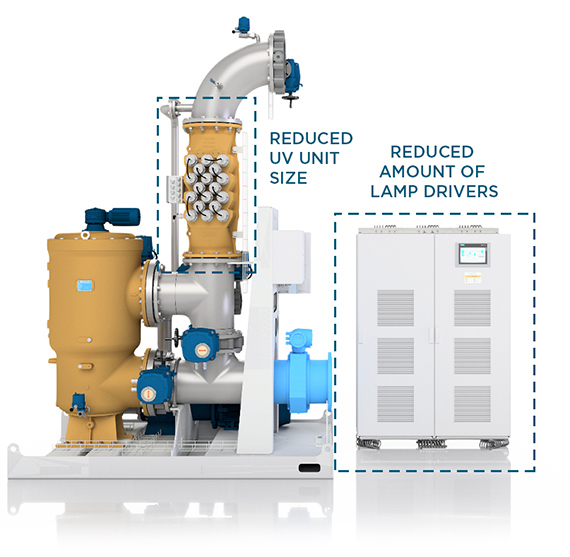 The CompactClean OptIMO system is designed to utilize the fact, that the IMO regulations uses MPN test method for approvals, which is more suitable for UV systems.
Thus, the CompactClean OptIMO BWMS uses an optimized and energy saving UV reactor to treat the ballast water, based on the same proven and high-quality technology as the well known DESMI CompactClean BWMS. This saves ship owners money on purchase and running costs.
Dual mode: IMO and USCG
Even though CompactClean OptIMO is optimized for full flow in IMO waters, it can still be used in USCG waters at 75% of max flowrate. Thus, if the unit size handles 1000 m3/h of water in IMO waters, it will handle 750 m3/h of water in USCG waters. 
Dual-mode software takes care of the correct treatment scheme after the operator inputs which mode to operate the system in. The destination port will determine whether the system should operate in IMO or USCG mode.
UV treatment at very challenging water quality
CompactClean OptIMO can, like CompactClean, handle water with low UV-transmission (UV-T) rate of 40% in US territory. Furthermore, CompactClean OptIMO has been certified to treat the water with UV-T transmission quality all the way down to the darkest of water (35% UV-T) in IMO mode.
CompactClean

OptIMO

(Model)

Max Flow

(IMO mode)

Ballast

[m3/hr]

Max Flow

(IMO mode)

De-Ballast

[m3/hr]

Max Flow

(USSG mode)

Ballast

[m3/hr]

Max Flow

(USCG mode)

De-Ballast

[m3/hr]

50

50

60

40

40

55

55

60

40

40

100

100

135

85

85

135

135

135

85

85

170

170

240

160

160

190

190

240

160

160

340
340
370
250
250
500
510
510
340
340
750
750
750
500
500
1000
1040
1200
870
870
1500
1500
1650
1180
1180
2100
2100
2500
1740
1740
Max treatment (CompactClean OptIMO 1000 as example):
| | |
| --- | --- |
| IMO Ballast | 1040 m3/hr |
| IMO De‐Ballast | 1200 m3/hr |
| USCG Ballast | 870 m3/hr |
| USCG De‐Ballast | 870 m3/hr |
Specifications:
| | |
| --- | --- |
| UV reactor size | 108 kW |
| Filter size | 1040 m3/hr |
| Main pipe dim. | DN300 |